"FRANK THE TANK", as he is now affectionately known at Blackbird, is going to celebrate his 67th birthday this month. But you would never guess it, as he scales the rope like a Spider Monkey or out-runs most of the class in workouts! He's a machine, a tank for sure, and much deserving of Athlete of the Month.

He has been a member since February 2022. And in that time he has become a bit of a legend due to his buzzer-beater lift in the final Open workout this year. It was the most electrifying moment in our Open Team League History! High-fives and huge smiles. He's humble and self-effacing, but also hysterically snarky if you listen hard enough.

But instead of droning on about how awesome we think he is, we thought we'd ask his gym bestie, Summer McKissick, to tell us what she thinks makes Frank super special.

"Where to start about Frank…

When you first meet him you may think he is quiet and friendly, BUT when you get to know him a little better he is sassy, fearless, and hilarious.

Frank and I started going to Blackbird CrossFit around the same time and would lift together out of convenience of our squares. However, very quickly we became gym besties through laughter from his audacious comments and my witty rebuttals. We also bonded over me becoming an Adult-Gerontology Nurse Practitioner. With Frank being "Geriatric", it was a perfect pairing.

All jokes aside, Frank is a kind friend, blackbird member, and family man. It doesn't matter who the person is that walks through the door, he will make you feel like you belong. I am honored to call him a friend in and out of the gym. He loves to play pickleball, spend time with family, and practice handstand pushups and dubs on the weekends. He has blew us away with his incredible Crossfit Open snatch that inspired people across the country that you are never too old to do what you love and KICK ASS.

The gym and my life wouldn't be the same without him. #FRANKTHETANK"

–Summer McKissick, CRNP

And we happen to agree wholeheartedly with her account of "The Tank". Meet Frank…
Tell us about yourself
I am Frank Jaworski, age 66. I am married to Sandy and if she doesn't throw me out before July 23rd, it will be 40 years. *Editor's Note: They made it through! We have three kids in their thirties living in various places in Virginia, one granddaughter, and a grandson on the way. I retired in 2021 from a career as a mathematician (and various other stuff) in the defense industry.
What made you start CrossFit?
When I retired, I was looking to ramp up my fitness. I was doing a lot of running and had lost about 60 pounds in the two years before retirement, so my cardio was good, but I wanted a more diversified approach. My son Paul has been a hard-core CrossFitter for about seven years, so he pushed me in that direction. I mentioned I was considering CrossFit to my friend, co-worker, and Blackbird member Amanda Gosnell, and she eloquently texted me "Omg yes Franky!!!!" So, because of those four exclamation points, here I am at Blackbird.
What have you learned about movement, fitness, and yourself since joining Blackbird?
What didn't I learn? Prior to Blackbird, I had always played a lot of sports, but I had never lifted a weight or done anything on a rig or upside down in my life. The first few months were rocky. I didn't quite fit the demographics of the gym and every time I approached a loaded bar, there was terror in Rebekah's eyes. But I embraced the chaos and little by little the coaching tips started to sink in, and I began to appreciate how important subtle technique changes are to success. I have a long way to go, but it all feels possible. I also surprised myself by acquiring some skills I did not think were likely. I took the long view on training and, after 18 months of it, I'm shocked to see that I seem to fit in okay with all these young athletes.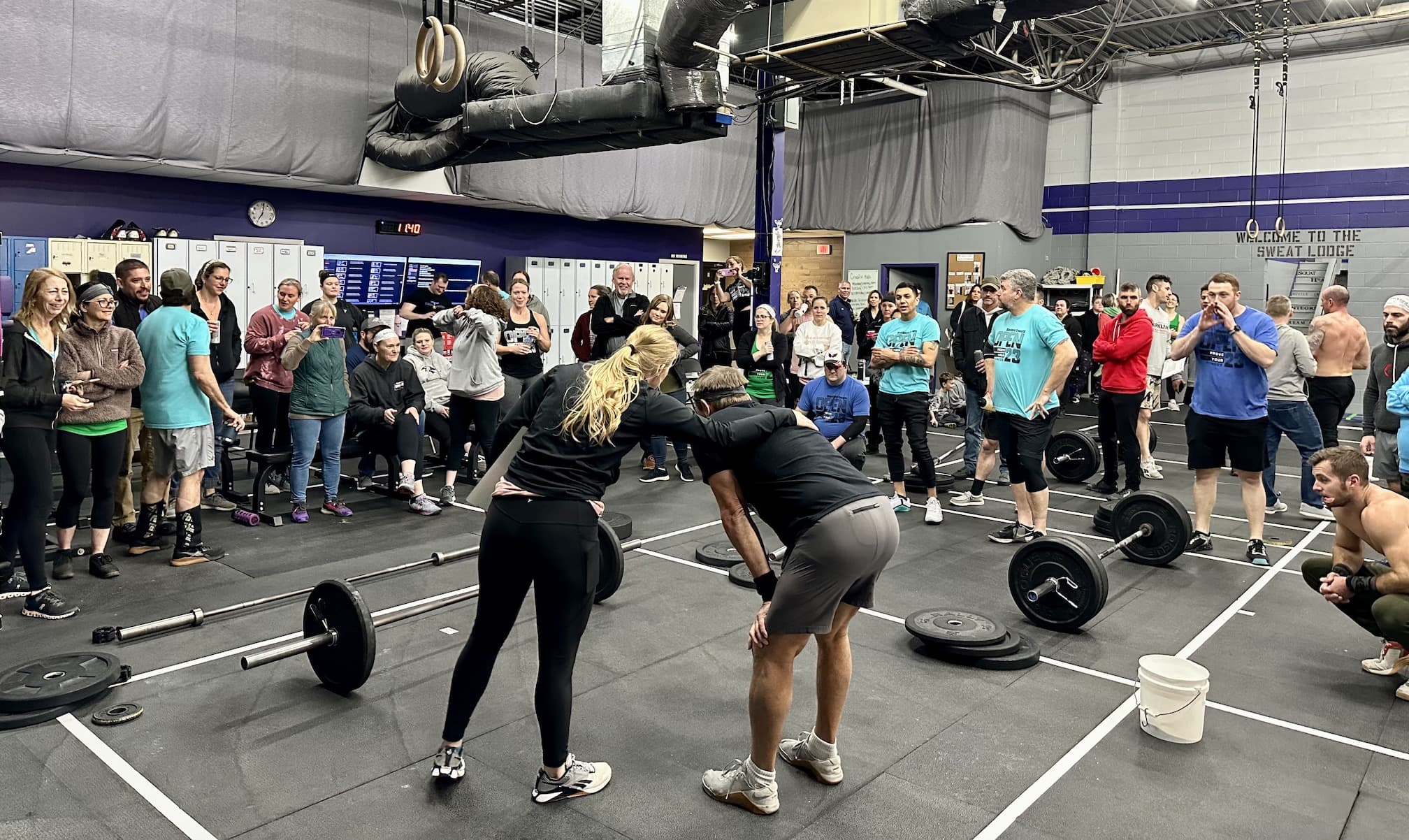 What is your proudest CrossFit moment?
Two things. First, I'm really pleased that I can now execute a half-decent string of kipping pull ups. I remember watching people do that in the 2022 Murph and thinking how far away from success I was at that time. And suddenly I can do it okay. Secondly, I'm very proud to have been given the nickname "Frank the Tank". You don't really feel you fit into a social culture until you have a ridiculous nickname. Thanks to whoever thought that up.
What is your favorite CrossFit movement, lift, or WOD? Least favorite?
At any given time, my favorite movement is the one where I feel I am on the verge of making a big leap forward. Right now, those are toes-to-bar, double-unders, and wall walks. I'm close but not quite there. For information on least favorite movements, I will refer you to Lowell's videos.
What impact has CrossFit had on you inside and outside of the gym?
It has made me realize you can always work harder than you thought you could.
What do you enjoy most about Blackbird or CrossFit in general?
I like the variety of movements in the workouts from day to day. Also, I find it much easier to work hard through the whole workout when everyone is doing essentially the same thing.
What are your CrossFit goals? How close are you to reaching them?
I have short, medium, and long term goals. My short-term goal is to show up tomorrow no matter what and take whatever Steve is dishing out without complaint. My medium-term goal is to be able to Rx the 2024 CrossFit Open workouts (for my age group). My long-term goal is to do CrossFit until Gabi Deyo is a grandmother.
When you are not CrossFitting what is your favorite thing to do?
I play a lot of Pickleball, I run, and I am working through a long list of weird retirement activities that I'm not going to share.
What is one fun thing about you that we may not know yet?
Megan answered this question by revealing that she grew up on a dairy farm, so I will follow that by telling you that my summer job as a teen from ages 14-20 was working on a tobacco farm in Connecticut. It rarely comes in handy, but I can still roll a fine cigar.
What is the one tip you would give someone considering CrossFit or new to CrossFit?
Think of CrossFit as a daily competition against your previous self. Set tiny goals, get a little better at one thing every day, and try to absorb one morsel of coaching per day. If I can play the long game at 66, so can you.
What is your diet like? Has it changed since starting CrossFit?
I have a pretty healthy and successful planned diet every day that I have maintained for a few years. I track my macros religiously. Unfortunately, I combine that with outrageous cheating (eating sweets) several times per week that undoes most of my good work. I'm currently enrolled in Blackbird's Healthy Habits Accountability Group, where Ashley and others provide a lot of great tips. I'm a work in progress.
Results? Tell us about your results!
I've hit some of my goals and have others ahead, but the real result is that I feel great every day after CrossFit and I always look forward to tomorrow.
FREEWRITE
When I started CrossFit, I thought it would be a convenient way to keep me committed to working out daily. But it has turned into much more. I really appreciate the culture of encouragement and support that Blackbird has. Because of that, I've accumulated over time a group of workout buddies half my age that make it all a lot of fun. I especially love the Saturday morning open gym time. Everyone there is very generous with their time and expertise, and I can spend time focusing on my specific goals. It's the best part of the week. Finally, I'd like to thank Matt and Rebekah and every one of the coaches. They really run a first-class professional gym, are consistent in their approach and reliably helpful with their coaching tips. We're all lucky to be here. Also, when are you going to paint Pickleball lines on the gym floor?