About
Blackbird CrossFit
We have the most experienced, knowledgeable, and supportive coaches in Carroll County, dedicated to meeting you where you are and safely guiding you toward your goals. We are wholeheartedly committed to providing the highest quality coaching, the best training facility, and the most supportive and inspiring atmosphere for our athletes. Our goal is to help you train for, and understand, real fitness. Fitness and health are a lifelong journey, and in CrossFit there is finally a straightforward training method that can and will develop elite fitness for anyone.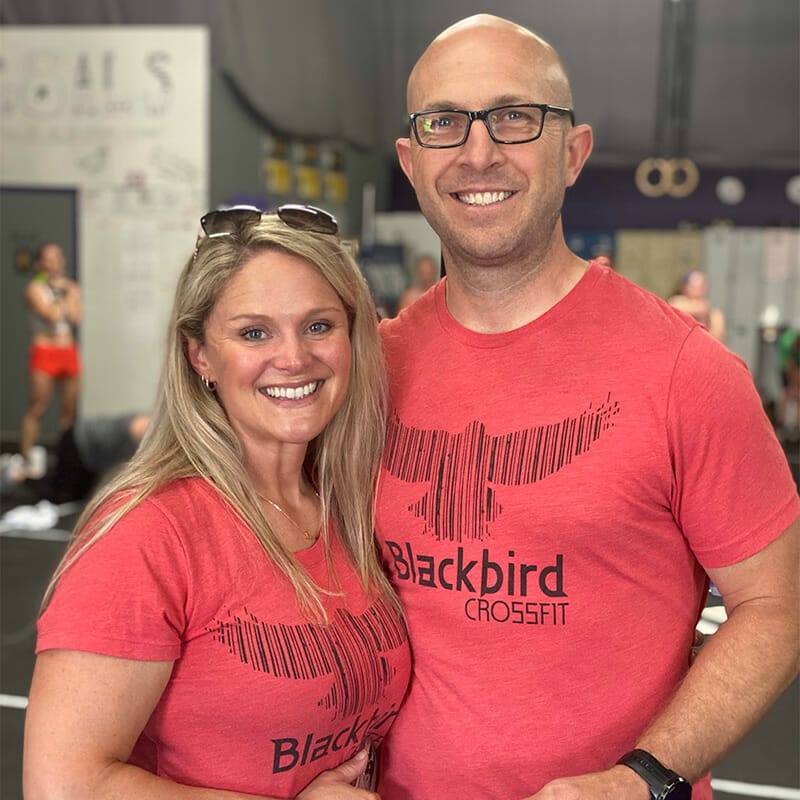 01
Matt & Rebekah Titus
Owners
Blackbird CrossFit opened in March of 2014 in Eldersburg, Maryland. It is owned and operated by Matt and Rebekah Titus, a local Eldersburg family. Their number one goal is to improve the health and well-being of others through strength training, conditioning, and community. "We believe that CrossFit, properly scaled to the individual, is one of the safest and most efficient programs available for strength, conditioning and movement. We are committed to doing things right through quality movement, intelligent programming, long-term sustainability, and results. We promise to offer a professional environment and knowledgeable staff dedicated to helping you reach your fitness and health goals. We promise to always challenge you and to foster a community that will inspire and motivate you. And we are all about having fun in the process." – Matt & Rebekah
02
Matt Titus
Coach
● B.S. in Biology, concentration in Anatomy and Physiology
● CrossFit Level 2 Trainer
● ATA Adaptive & Inclusive Trainer
● USA Weightlifting and Sports Performance Coach
● CrossFit Olympic Lifting
● CrossFit Kids Trainer
● CrossFit Mobility & Movement
Blackbird CrossFit Head Coach and Co-Owner Matt developed a passion for CrossFit in 2009 that changed the way he viewed fitness. Never a gym rat or weightlifter, Matt played college rugby and is a life-long soccer player. He immediately recognized CrossFit as a way to combine all of the things he loved about being an athlete; the competition, the team camaraderie, the intensity, the fun and the skill. His experiences in the box changed the way he trained, the way he viewed nutrition, and the manner in which he attacked daily life. Matt has been a part of three other CrossFit boxes in Baltimore City and Carroll County. He became a coach and opened up BlackBird CrossFit to help others in their journey to making long-term lifestyle changes. Regardless of a member's starting fitness level, he considers every member an athlete. He believes in the importance of a varied strength and conditioning program, whether the athlete is training for The CrossFit Games or is an everyday person looking to improve their overall health. The most rewarding part of coaching for him is when a member has their "ah-ha moment" and releases all of their self-perceived limitations. That is when the real training and fun begins! "I want BlackBird CrossFit to be an important part of my community and serve as an example of how to be fit, enjoy life and strive to reach your true and full potential."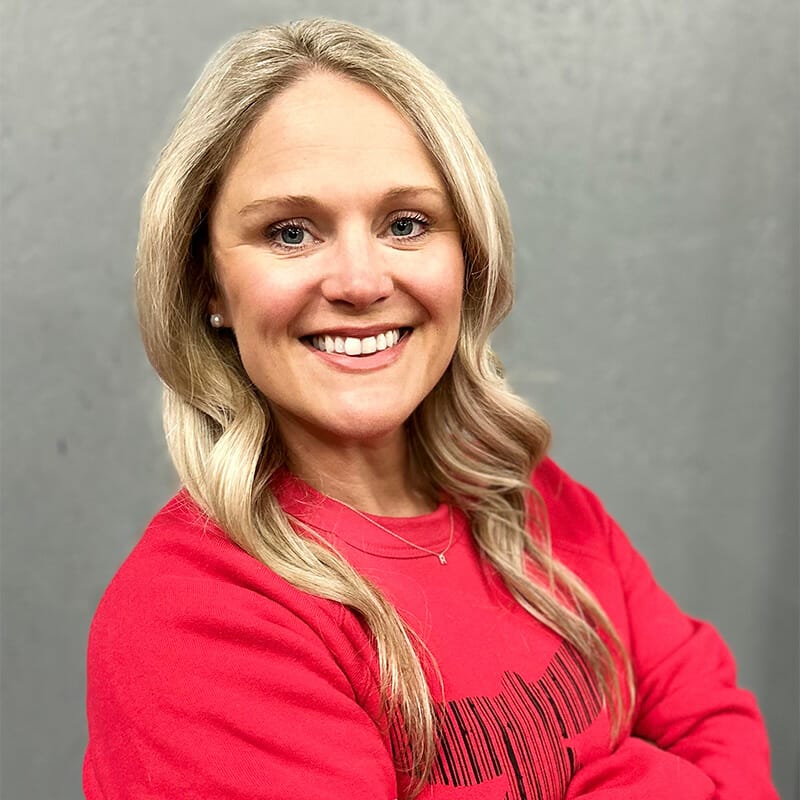 03
Rebekah Titus
Coach
● CrossFit Level 2 Trainer
● USA Weightlifting and Sports Performance Coach
● CrossFit Kids Trainer
● CrossFit Gymnastics
● CrossFit Mobility and Movement
● Blackbird CrossFit Co-Owner
Rebekah Titus was first introduced to CrossFit in 2009. She and her husband Matt opened Blackbird CrossFit in March 2014. She has been on the floor coaching, honing her craft ever since.
Rebekah's special talent lies in fostering a positive training environment to help clients overcome self-doubt or perceived limitations to achieve their full potential. She loves making CrossFit accessible to anyone and everyone; helping people take control of their health, fitness, and everyday life one hour at a time.
She feels strongly that Blackbird CrossFit is more than just a gym. It's a place where she and her team are able to make genuine, long-lasting relationships with people. Through those relationships, Blackbird coaches give members a supportive community, a sense of belonging, and top-notch instruction to get them in the best shape of their lives.
"CrossFit was a game-changer for my fitness and mindset, and I want to bring that to others. I love working with young athletes, parents, and grandparents alike who are looking for better health, longevity, energy for a fuller life, and the strength and endurance to excel in anything they tackle. Other than motherhood, opening up Blackbird CrossFit is the most fulfilling thing I've ever done."
Rebekah also uses her background in Marketing and Communications and Public Relations to handle everything that makes the Blackbird member experience special, plus social media and marketing for the gym.
04
Mike Ruiz
Coach
● CrossFit Level 2 Trainer
● USA Weightlifting Level 1 Coach
● CrossFit Masters
Trainer Mike started his fitness journey in January 2018 here at Blackbird at age 40. Knowing nothing about CrossFit and only hearing about it from a friend, he tried one class and was hooked. After 8 months at Blackbird, he received orders to Hawaii where he continued doing CrossFit for the next 3 years. During that time he earned his CrossFit Level 1 Trainer certification in an effort to further his knowledge. In August 2021, he returned to the Eldersburg area and picked up at Blackbird right where he left off. Mike spent 4 months in our Blackbird Caching Internship and took over his own classes in December 2021. Mike has been an active-duty service member for over 18 years and CrossFit has enabled him to stay physically and mentally fit to lead his people. He enjoys the camaraderie and welcoming community that makes CrossFit so unique. It has truly opened his eyes to how fitness and nutrition play a huge part in living a healthy lifestyle. It's a Ruiz family fitness affair with Mike's wife, Allyson and two out of his three sons also attending Blackbird. "CrossFit has done so much for me in all aspects of life. In addition to the fitness and nutrition gains, the increased self-confidence and mental toughness helps me to continually strive to become the best version of myself. The CrossFit lifestyle carries over to work and family life, and helps to keep me balanced. As a coach, I am grateful for the opportunity to positively impact one's approach and experience through their fitness journey."
05
Steve Weatherholt
Coach
● CrossFit Level 3 Coach
● NBHWC Board Certified Health Coach
● Adaptive and Inclusive Trainer
● USAW Level 1 Sports Performance Coach
● CrossFit Nutrition Certification
● CrossFit Programming Certification
● CrossFit Kids Certification
06
Justin Metzger
Coach + RUNNING SPECIALIST
● CrossFit Level 3 Coach
● Pose Certified Running Technique Specialist
● Aerobic Capacity Ambassador
● CrossFit Endurance Trainer
● CrossFit Kids
Trainer Justin Metzger is excited to bring his knowledge and experience of running and endurance training to his fellow athletes at Blackbird CrossFit, the Eldersburg Rogue Runners, and all who are interested in running with more efficient technique. His goal is to keep runners injury free for many years, while also helping them to run faster to achieve their goals. Justin's journey as a coach took an unexpected turn in January of 2011. A group of teachers invited him to start doing CrossFit with them in the school gym, which completely changed his outlook on fitness and training. He learned the importance of technique, began to appreciate running as a skill, and realized more effective ways to train besides just volume. From that moment on, Justin has continued to learn as much as he can about CrossFit, the Pose Running Method, aerobic training, endurance training, and nutrition. Justin brings years of experience as a competitive endurance athlete himself. In his younger years, he competed on his high school and college Cross-Country and Track & Field Teams. He has since channeled his love of running into coaching others, as the Head Cross-Country and Head Track & Field Coach at Carroll Community College, since their program began in 2019. Prior to that he was the Head Boy's Cross-Country Coach at Century High School from 2011 to 2016. Now, Justin coaches all athletes from middle-schoolers that are beginning their athletic journey, to adults that are looking to improve on what they have learned over the years. He looks forward to bringing his knowledge of running and endurance training to his fellow athletes as the only coach of Blackbird CrossFit's PACER Program. Also, he works with Tri Sport Junction to design programming for the Sykesville/Eldersburg running and triathlon communities to help them achieve their goals of competing in all race distances from 5K's to ultra-marathons.
07
Chris Richelderfer
Coach
● CrossFit Level 2 Trainer
● USA Weightlifting Level 2 Coach
● Blackbird Barbell Club
Coach Chris is a Pennsylvania native and grew up outside of Harrisburg. After college at Mount Saint Mary's University in Emmitsburg, MD, he joined the US Army and has spent time living in various places in the US and abroad. During a deployment to Afghanistan in 2007, he was introduced to CrossFit but didn't actively start following the CrossFit methodology until 2009 when his wife Ashley and he were stationed in Bamberg, Germany. After moving back to the States, he eventually joined CrossFit Fort Bragg in North Carolina and later CrossFit Syracuse in New York. While at CrossFit Fort Bragg, Chris competed as a member of the gym's team at the Reebok CrossFit Games Mid-Atlantic Regional in 2013. During an assignment in Washington State and for about a year after Chris moved to Maryland, he spent about two years working out in his garage and focusing on Olympic Weightlifting. He was pleased with the strength he gained and earned podium positions in a few small, regional meets. But he realized he needed the community, variety, and intensity you can only find at a CrossFit Gym. So he joined Ashley at Blackbird in 2017. He began coaching at Blackbird CrossFit in 2018. Chris specializes in Strength and Olympic Weightlifting coaching and customized program design. He has led five of Blackbird Barbell Club's members to qualify and compete at the national level.
08
Dan Siculietano
Coach
● CrossFit Level 1
Trainer Dan brings eight years of CrossFit experience and a lot of positive energy to the Blackbird Coaching team in 2022. He grew up in New Jersey and began a career in law enforcement at an early age. In 2011 he moved to Maryland and joined the Prince George's County Police Department. Dan was introduced to CrossFit by a co-worker in 2014. But it wasn't until 2018 that Dan walked through the doors at Blackbird CrossFit. He was looking to improve his fitness and keep up with the physical demands imposed as a member of the SWAT team. "Since I began my CrossFit journey, not only has it greatly improved me physically, but mentally as well. Being a CrossFit Coach now gives me the platform to assist others in achieving their health goals. I find nothing more fulfilling than to be able to share my passion for fitness and help others be their best, strongest selves." Dan is married to Jessica, who attends morning classes at Blackbird regularly. They have two beautiful children, Daniel and Noelle who are often seen hanging out in Kids Club. Dan earned his CrossFit Level 1 Trainer certification in 2021 and spent 4 months in our Blackbird Coaching Internship, taking over his own classes in December 2021.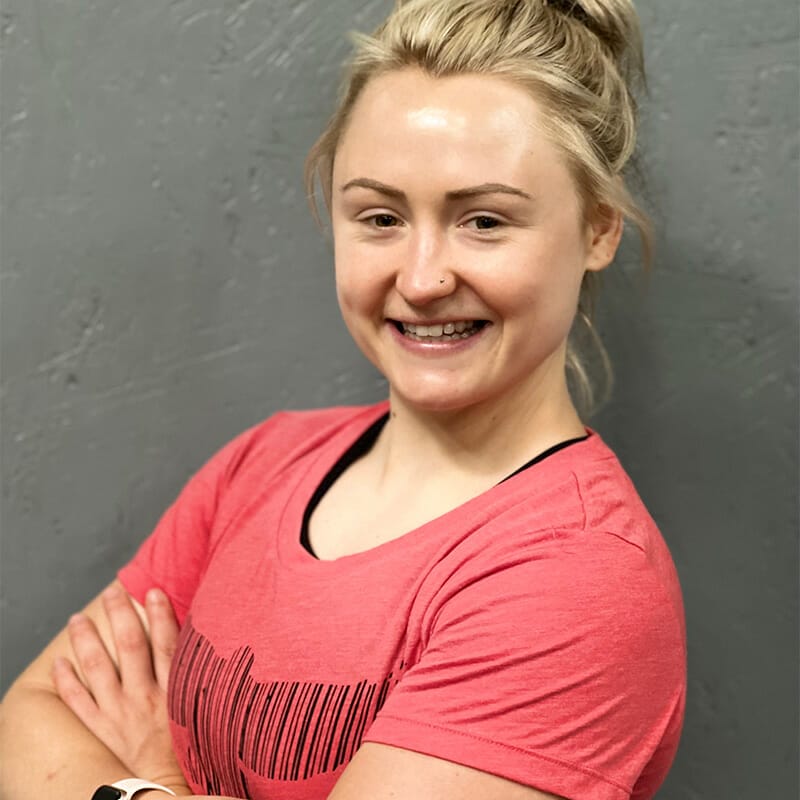 09
Mary Dunn
Coach + NUTRITION
● B.S. in Nutrition
● CrossFit Level 2 Trainer
● Head Blackbird Nutrition Coach
● WAG Nutrition Coach Certified
● Precision Nutrition Level 1 Certification
● 2018 CrossFit Games Atlantic Regional Team Member
● Competitive Gymnast (15 years)
Mary began coaching CrossFit and working as a Nutrition Coach at Blackbird in 2022. She has an amazing story of how CrossFit profoundly changed her life. She now works full-time bringing fitness, nutrition, and wellness to our community to help others. Mary found CrossFit while in recovery from an eating disorder in 2017. She spent most of her childhood competing in gymnastics. Although gymnastics is an amazing sport, athletes are often judged by their physical appearance. As a little girl, Mary can remember crying to her mother because she thought her legs were too big and muscular compared to the other girls. This was only the start of her negative relationship with food and exercise. At the age of 13, Mary developed anorexia. As a result, she worked with dozens of different therapists and dietitians. The biggest turning point in Mary's recovery was when she first walked into a CrossFit affiliate. She fell in love with the CrossFit methodology and learned to pay less attention to what her body looked like and more attention to the positive effects that CrossFit had on her mental health. In 2018, Mary competed in the CrossFit Games Atlantic Regional on Team Revamped, completed the CrossFit Level One certification, and started to pursue her Bachelor's Degree in nutrition. Since then, Mary has worked as a Nutrition Coach, Personal Trainer, and CrossFit Trainer, working with clients of all ages ranging from children, teens, adults, and the elderly. Her goal is to use her story to inspire others to gain love and respect for their own bodies!
010
Steve Plummer
Coach
● M.S. Counseling Psychology
● CrossFit L1
Trainer Steve began coaching with Blackbird CrossFit in 2022. He found CrossFit and started his fitness journey in 2020 just prior to the pandemic. He did not participate in sports growing up and struggled to find his place with fitness, trying several things before finding CrossFit. Steve first learned about CrossFit through his work as a therapist, mainly working with first responders. Several clients discussed the benefits of participating in CrossFit. So it piqued his interest. CrossFit became a great way to get in shape, have accountability, and connect with others. It very quickly became a passion for him. Within a short period of time he noticed improvements in all areas of his life physically, mentally, and socially. His wife and kids joined in the CrossFit community as well, creating a focus on health and wellness for the entire family. Steve brings the same level of dedication to helping others in the gym as he does working with his clients in the office. He recognizes the value of being well both mentally and physically. "CrossFit truly made a huge difference and radical shift in my life in a positive way and it's my commitment to show others how it can make a similar difference in their lives."
011
Mark Welsh
Coach
● CrossFit Level 1 Trainer
Mark started his fitness journey with Blackbird CrossFit in 2015 at the age of 50. Eight years of doing CrossFit has changed Mark profoundly. He developed an unbreakable commitment to his physical fitness, mental health, and diet, and has a voracious appetite for learning as much as he can.Mark has been a treasured member of our community, helping others and inspiring everyone, especially our Masters population, by seemingly defying the rules of aging. Even making it to the Age Qualifier round for the past two years of the CrossFit Games. In the 2023 Open, he placed 90th in the world and 62nd in the United States among men ages 55-59!
After 35 years in accounting, Mark is excited about his journey as a CrossFit Coach.
"I'm ready for something outside my comfort zone that provides me with something the Japanese call "ikigai" (pronounced eee-key-guy) which translates to "your reason for being." CrossFit and BBCF are certainly things I love and am passionate about. My father died at age 50; the age I started CrossFit. So, I look at every CrossFit class as extending my life by a day. Certainly, the world needs CrossFit, especially in the United States with high rates of obesity, diabetes, and all the other chronic diseases. I don't see any other solution other than diet and exercise/functional movement/activity. CrossFit may not be the only fitness/lifestyle program that accomplishes this, but it certainly checks all the boxes. I want to be a part of that and help others live a healthier and more active life, especially our older population."
012
Ashley Richelderfer
NUTRITION COACH
● Ace Personal Trainer
● Senior Fitness Specialist Certification
● Blackbird Nutrition Coach
● CrossFit Level 1
Ashley was raised in Hampstead, MD and met her husband (and fellow BBCF Coach) Chris in college. They have 3 beautiful daughters and two crazy dogs that keep her busy. In 2016, after multiple stations around the country with Chris's career in the ARMY, the Richelderfer returned to Maryland and Ashley joined Blackbird CrossFit a week later. She started both Nutrition Coaching and Personal Training at Blackbird in 2020. "I honestly think being shy is what pushed me to start coaching after 9 years of CrossFit experience. I drove past my first CrossFit gym for a year before working up the courage to walk in. It can be really scary to take that first step. My focus is on those people who don't have the confidence *YET* to walk through the doors – specifically women and seniors. My goal is to help those who are nervous about fitness to build confidence in themselves and realize their potential."
Take the first step.
We can't wait to meet you
Chat with a coach at Blackbird CrossFit to learn more about what program will fit your goals.
Fill out the form below to get started
Take the first step towards getting the results that you want
Free Intro