CrossFit Kid Turned Dynamic Teen Athlete
We have an incredibly special Athlete of the Month for June, Gabi Deyo. She just celebrated her 15th birthday last week!

Gabi started in our CrossFit Kids program in 2018. Even at a young age, she took the classes seriously and loved learning how to move well. As a 7th grader she started attending adult classes under the supervision of her mom, Lauren, and our coaches. Her maturity and work ethic led to huge improvements quickly. At age 14, she even began as an assistant coach in our Jr. Varsity CrossFit Kids classes. She is such an inspiration to our young members. They can see firsthand what it looks like to continue on with our program, building the fundamentals, skills, and strength to become amazing athletes in high school.

Our Blackbird community has loved watching this young woman excel in a sport that she loves. Gabi has dreams of competing at the highest level and making it to the CrossFit Games! She began working with Coach Steve this year with some additional programming to help her build her strength and advanced skills. She puts in the hard work with her training and nutrition and it has paid off. This year she placed 26th in the world in the CrossFit Games Age Group Semifinals.

"We all know Gabi is one of the nicest and friendliest people in the gym, so it has been so much fun working closely with her on her competitive goals. Not many people know that the last 7 months, all she has done outside of regular class workouts is work on her weaknesses. It takes a special person to dig in and constantly do the things you're not great at YET over and over. Not one complaint, and she does it with an open mind and smile. That's a character trait we can all learn from. Thanks for trusting in me, Gabi!" – Coach Steve

Gabi also loves to compete in Savage races with her family and friends and test her fitness at local CrossFit competitions. During her rare downtime, she likes to relax with family and lay out by the pool with a good book. The sky is the limit for this kid. We love you girl! Meet Gabi…
Tell us about yourself.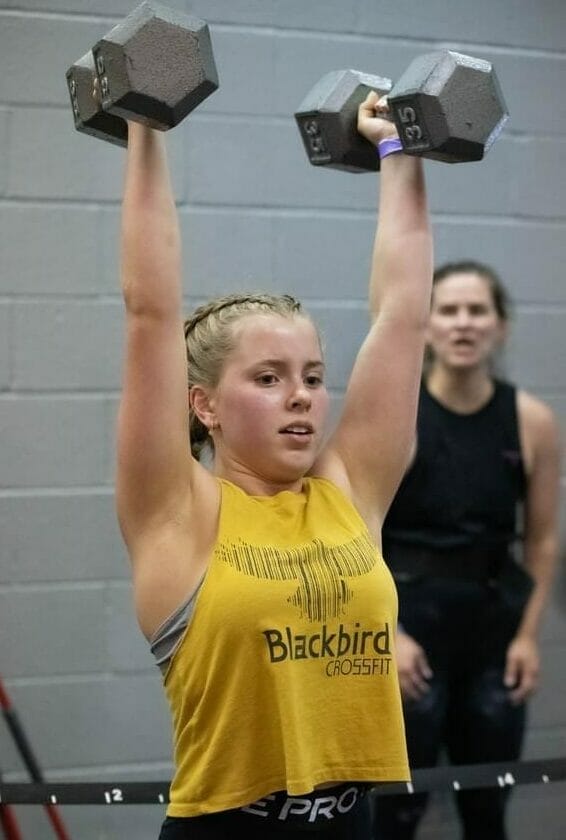 Hi, I'm Gabi. I am 14 years old, I go to South Carroll High School, and I'm the oldest of two kids. I help coach the JV CrossFit Kids classes and babysit when I have free time.
What made you start CrossFit? What has kept you doing it? Has your motivation changed from when you first started?
I started CrossFit with the encouragement of my mom and dad, and have grown to love it! I have continued to come back not only because I enjoy doing it, but the gym community has grown to be like a second family to me. Their encouragement and support over the past few years has kept me motivated to work hard every day.
What have you learned about movement, fitness, and yourself since joining Blackbird?
My experience at Blackbird has taught me many valuable lessons, like I CAN DO HARD THINGS! I have also gained a significant amount of body awareness by being coached through movements.
What is your proudest CrossFit moment?
I have so many proud CrossFit moments, but one of the top ones for me was recently making the CrossFit Games Semifinals.
What is your favorite CrossFit movement, lift, or WOD? Least favorite?
I have absolutely no idea why, but my favorite lift has got to be squat cleans. My least favorite movement is definitely double dumbbell Devil's Press!
What do you enjoy most about Blackbird or CrossFit in general?
My favorite part of CrossFit & Blackbird are all the people I have met and will get to meet through the gym. And the fact that I get to push myself every day!
What impact has CrossFit had on you inside and outside of the gym?
CrossFit has helped me be confident in who I am and my ability to work hard both inside and outside of the gym!
What are your CrossFit goals? How close are you to reaching them?
Many of you know that a goal of mine if to make it to the CrossFit Games. Over the past few months, I have been training with the help of Coach Steve Weatherholt. And he has gotten me so far in such a short time! I am confident that I will be able to reach my goals with his help, along with the support from the community at Blackbird, which has also had a huge part in getting me this far!
When you are not CrossFitting what is your favorite thing to do?
Outside of CrossFit I enjoy reading and relaxing with my family. Now that summer is here, I cannot wait to hang out by the pool and go swimming. Of course I enjoy spending time with my friends whenever I get a chance.
What is the one tip you would give someone considering CrossFit or new to CrossFit?
One tip that I would give to someone who is new to or considering CrossFit is to not let it intimidate you. I know that coming in to a new gym is scary, especially if you don't know anyone. If you just keep putting in the work, you will find that you can do things you never would've expected, and will all be there to support you!
What is your diet like? Has it changed since starting CrossFit? If applicable, what was your experience like working with a Blackbird Nutrition Coach?
I don't eat many processed foods, and I do not eat any dairy or gluten. I tend to eat the same foods every day, which include lots of fruits and vegetables, rice, chicken, beef, and eggs.
I started working up to this diet when I first started CrossFit in 7th grade. Coach Steve has helped me work out macros to better suit me and my needs. So far, it has helped a significant amount in reaching my performance goals!
What is your favorite workout fuel? What's your favorite indulgence?
I don't really have a favorite workout fuel, but I usually eat some sort of fruit with turkey bacon and an LMNT Water before my workouts. My favorite indulgence is my smoothie, which I make after every workout!
Results? Tell us about your results!
I have gained 12 lbs of muscle in the past year! This is a huge accomplishment for me!