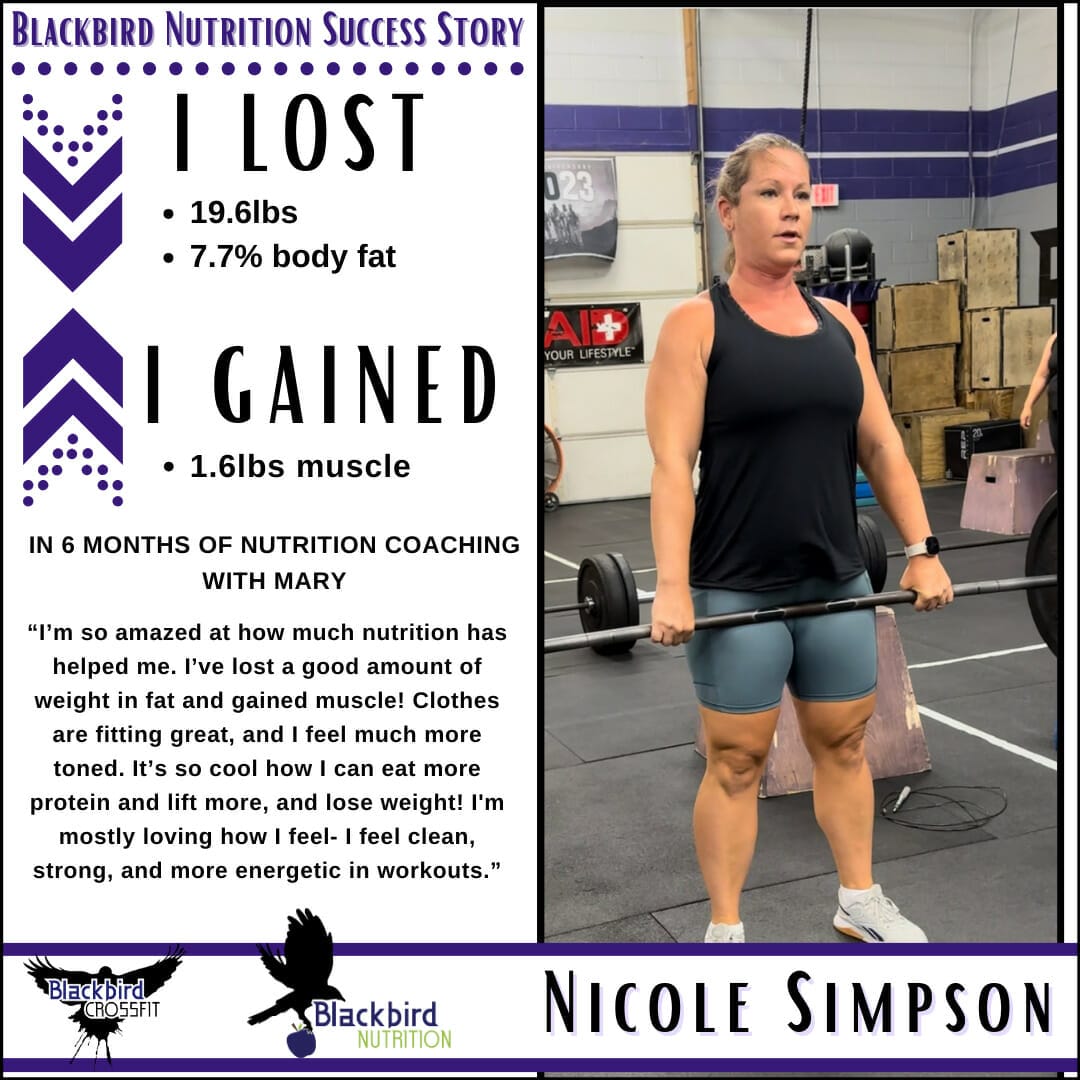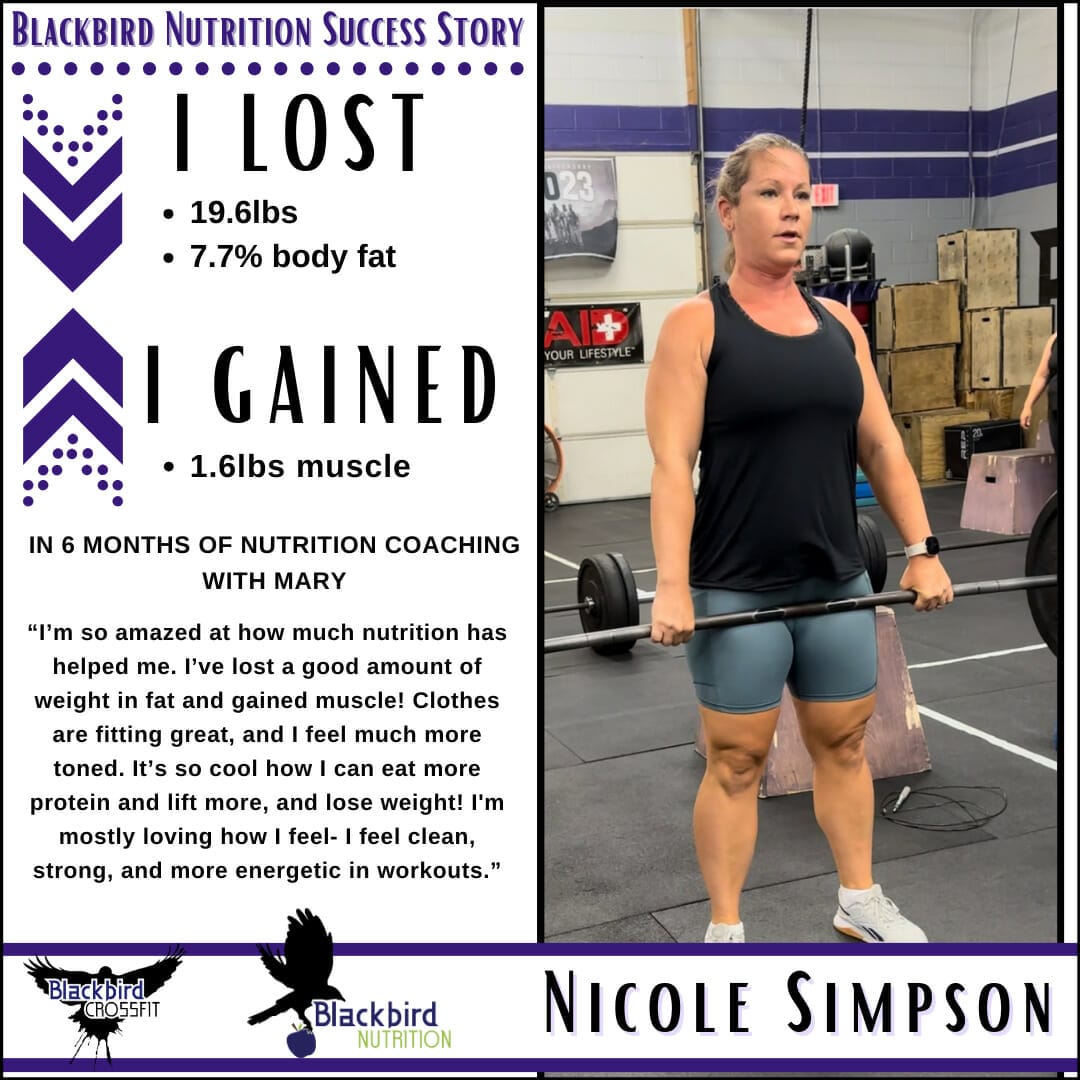 Nicole Simpson has worked hard for 6 months in one-on-one Nutrition Coaching with Coach Mary. Check out her journey to better health and fitness!

"It has been exciting to watch Nicole transform into the best version of herself. Nicole and her husband Eric have been highly motivated since the 2023 Nutrition Kickstart with nutrition, fitness, and managing stress. Together they have created new family lifestyle habits that they have been able to sustain!" —Coach Mary
What made you decide it was time to take action and transform your health?
I realized I had put my health and nutrition on the back burner after many years of raising little ones piled on with the stresses of life. I was feeling tired and uncomfortable with myself. I found some more time in my schedule and decided it was time to make my health a priority. I actually called it "my year of health." I knew I was meant for more and wanted to take care of the body God gave me. I wanted to have energy and confidence to love and serve my family and my community.
Why did you choose Blackbird CrossFit Nutrition?
I needed a reboot with my nutrition. I knew what I was supposed to be eating, but couldn't stay consistent. I needed accountability. I started with the Nutrition Kickstart in the spring and just focused on healthy habits. Those habits were so manageable and I saw results. I was amazed how drinking more water, getting more sleep, taking more steps was even yielding significant results mentally and physically. I wanted to take my nutrition a step further so I joined the Nutrition Program with Mary.
What was your biggest challenge, and how did you overcome it?
My biggest challenge is eating the best foods on the weekends and keeping my good habits. I know that sugar, alcohol, and heavier calories don't actually make me feel better in the end. I've been trying to get over the mindset that I need these these things to unwind. They de-stress me for a moment, but not long term. I usually feel the impacts of it the next day. I've even noticed now how much nutrition impacts my workouts at CrossFit. When I eat delicious whole foods, and hit water and sleep goals, I'm strong and energetic working out. When I don't, I feel sluggish and just off.
What were you feeling before starting nutrition coaching?
Before the nutrition coaching, I felt tired and sluggish often. I was more irritable and felt the ups and downs of the sugar and bad foods I was eating. I said I valued my body in word but not in action. I kept telling myself I didn't have time for myself, other things were more important. I would try diets and meal plans but I would get discouraged when I slipped up and then give up. It was all or nothing with any diet I tried. I often tried low carb diets but I would crash and burn hard on those.
How do you feel about your nutrition habits now?
I realized I'm a year away from 40 and didn't want to live this unhealthy life anymore, which is why I joined Blackbird CrossFit and wanted the nutrition support. I decided this was my "year of health," making it my goal to be strong and healthy by 40. Now I see taking time to fuel myself with good whole foods as essential to my daily living. Good nutrition helps me be a better mom, a better wife, and helps me do the other things in my life with excellence- like serving at my church, volunteering at a pregnancy center, volunteering at my kids school, and running my kids around the activities. I actually crave good whole foods now and know I can count on them to help me tackle my day. I'm better fueled for my workouts, I notice a significant surge of energy and endurance when I'm fueled well. I do slip up sometimes and indulge still on weekends. I notice the impacts of it but I have a new mindset about it. I'm not on a diet, I'm living healthy habits and a new way of life. I give myself a lot of grace when I enjoy an indulgence. I try to plan for it and stay mindful and enjoy that treat or drink with no guilt or shame about it. Then I make a plan to move on the next day and stay consistent with eating good foods. Like most diets there's an end time, but this way of eating doesn't make me feel time constricted or limited. Overall I understand macronutrients better and realize I need them all. I prioritize protein now and it helps me keep my blood sugar stable. I love eating more vegetables and love my carbs still- but better ones like roasted potatoes, brown rice, sweet potatoes, and protein waffles.
I love working with Coach Mary, the accountability has been great. She is very encouraging and helps me with my mindset. When I slip up, she gives me grace and hope for the next day. She cheers me on with all my wins- whether it be hitting my macros, feeling less stressed, hitting a workout PR, or just telling her I'm feeling great. She is consistent with me and always positive. She helps me plan ahead for the weekends with great tips on how to handle social situations, foods to look for, and new recipes to try. I know I'm not alone in this.
I'm so amazed at how much nutrition has helped me. I've lost a good amount of weight in fat and gained muscle! Clothes are fitting great, and I feel much more toned. It's so cool how I can eat more protein and lift more, and lose weight! I'm mostly loving how I feel- how I feel clean, strong, and more energetic in workouts.
What is one piece of advice you would give someone who wants to start nutrition coaching and CrossFit?
I would advise someone who feels in a nutrition rut to give the Blackbird Nutrition program a try. There's always room for growth and improving your understanding of nutrition. Balancing out macronutrients is really important, and prioritizing protein will help so much with staying stable in hunger, fueling a good workout, and losing weight. I would also say don't obsess about the scale, but take advantage of the Inbody scans and the 1:1 coaching. The scale only tells so much, and I always get so encouraged by the other variables I see on the Inbody scan- like skeletal muscle mass, body fat, and water weight. I also would encourage others to talk to a Nutrition coach about your goals, your lifestyle, and reflect on your progress. It's a great way to stick with it and stay consistent. I keep telling myself with nutrition and in workouts too that "slow and steady wins the race." I love when people are consistent and reliable with me, but I remind myself to be consistent and reliable to myself. I don't like letting other people down, so why would I let myself down? There's always tons of grace for slip ups, but not giving up is the key.